enflexion is a web design firm founded in 2001 providing outstanding websites that are cost effective and return results. We may have a funny name pronounced:
N Fleck Shon
enterprising ideas and flexible solutions.
But we can help your business grab hold of the web and really make a difference! We specialise in building websites, online applications and User Interfaces that work and help businesses both large and small to enhance the relationship between themselves and their stakeholders. By doing this you and your company can return increased profitability.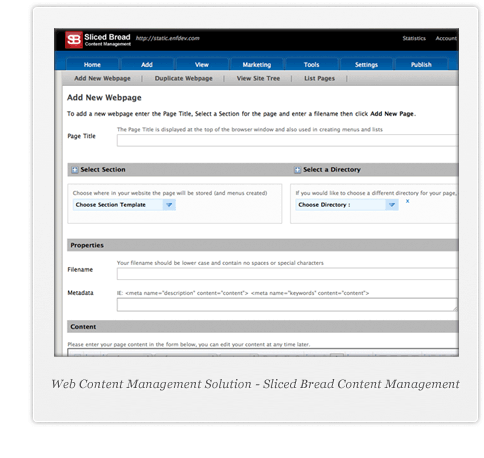 enflexion has developed what we believe is the very best web content management solution - Sliced Bread Content Management. Sliced Bread allows users with even the most basic computer skills to manage their own website.
enflexion's mission is to enable organisations to effectively interact with their stakeholders through applications, portals and websites to increase their competitive advantage and Return on Investment (ROI). We do not believe that the web should be hard to use or have websites that don't offer what people want.
enflexion offers innovative usability solutions for eBusiness, software development and emerging technologies for Government and industry. We can assist organisations in making informed decisions about their strategic direction, evaluating current systems to identify business opportunities and benefits, and developing online applications that allow stakeholders to efficiently and effectively interact with your organisation.
Staff
enflexion staff including principal, Drew Wentzel have extensive experience in partnering with many organisations to achieve organisational goals that are realistic and offer immediate benefits, not just long term solutions. To get an idea of the depth of experience of our staff have a read of some of the research whitepapers available.
Whether the project is to evaluate an existing system, set a new strategic framework, develop a new user interface, or review the Information Architecture and workflow, enflexion and it's associates have the experience and expertise to assist your organisation.
Industry Experience
We have experience in a wide variety of industry sectors, in both small and large clients including:
All levels of government
e Health
Museums and Galleries
Travel and Tourism
Financial Services Industry
Vocational Educational and Training
Real Estate
Boutique Shops
Non Profit Organisations
Proven Trackrecord and Methodologies
We have developed a series of business methodologies that are effectively used to evaluate your business. The evaluations can be used to identify a prioritised strategic plan to harness new technologies, enter new markets and extend your competitive advantage. When we first come out and chat with you about your web needs, we will spend the time to understand your business, your needs and your objectives. Then we will develop a package or a solution that fits your needs exactly!
Have a look at our client portfolio and read what our clients have achieved!